photo: maaike van esch
I was born in Amsterdam in 1965. From 1972 to 1974 I lived in Msambweni, a small village in Kenya. From the children there I learned how to make anything from natural materials and flotsam. Sailboats, fishing guns, musical instruments, toys... I met a great love: nature.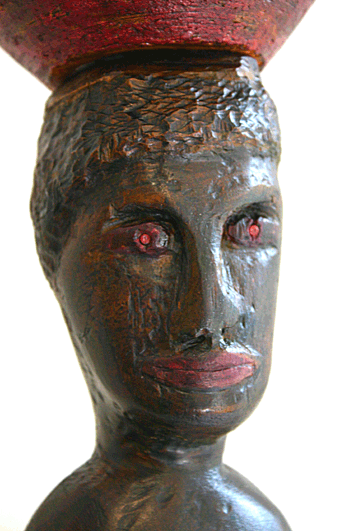 african woman (detail)
In almost all my sculptures you can find a clear African influence (see e.g. here). I remain deeply touched by African playfulness and creativity. The expression of the human soul in body posture and facial expression, the imagination and richness of forms in art, the dancing, singing, rhythm and music, ...
Over the years I have come to realize that various African art philosophies are profound, and mirror my own convictions in many ways. An African influence in my drawings and paintings is there if one looks attentively.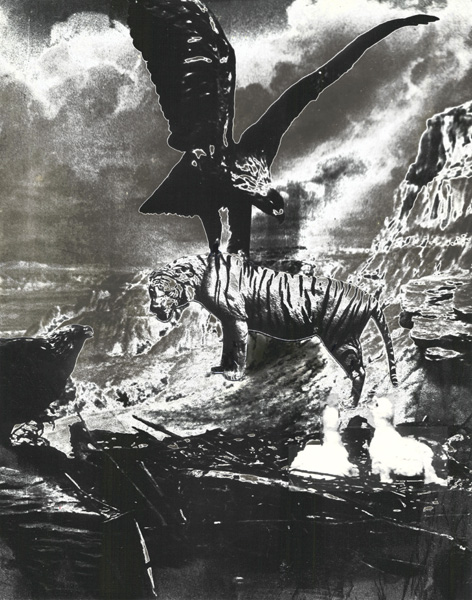 photo experiment 1981
In 1981-1982 I had the opportunity to study in the USA for one year. Artist Richard Cunningham taught me oil painting for two hours daily, at Minnetonka High School. In this school I also took classes in photography, calligraphy & lettering, and film.

On the left: one of my `analog photoshop' experiments from photography class. It was fun but my darkroom skills were limited. I'm glad that digital photography combined with photoshop has since enabled me to adequately develop photography also for artistic purposes.
With John Schubert I studied classical guitar, at the McPhail center for the arts in Minneapolis. I still play the guitar, and also the piano a lot.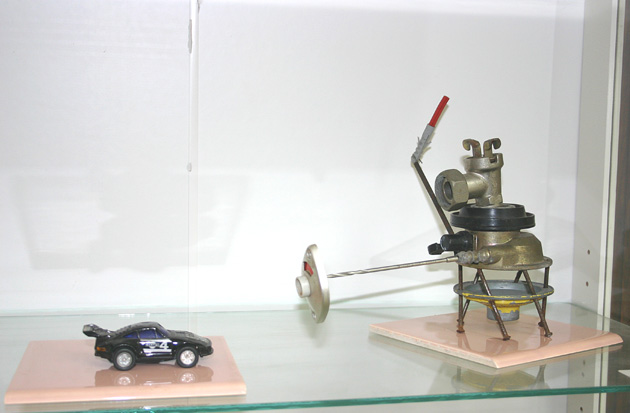 traffic warden (1982)
Back in the Netherlands I made roomfilling wiresculptures, playful but time-consuming constructions, clay and wood sculptures and even a spaghetti-animal (on which the cat jumped, alas).
I studied classical guitar at the Arnhem music conservatory, but I did not enjoy it. Then I tried my hand at medicine and mathematics, until a friend urged me to go to art school, since I was always painting, drawing, sculpting.
From 1985-1987 I studied at the art academy in Utrecht (propedeuse 1986). After 2 years I left the academy, my style and personality didn't fit in the school-like pattern. For technical skills I took an additional number of sculpting, painting and material-working courses. I finished my math studies (MSc 1991, PhD 1996), by that time I was married and father of two children.
dance of the earth and sky (2012)
Since Kenya, another big love for me are music and dance. In my drawings dance as a theme frequently comes to the fore.
From 1987 to 1992 I made ± 1500 drawings of dancing people in disco's (also see here).
Performer of dance: the human being, my greatest inspiration.
Finally an important love to me is science. This love led to a PhD in mathematics (Radboud University Nijmegen 1996), and some more publications on the foundations of constructive mathematics (ongoing, see my math page).
Since 2012 I maintain a math, science & philosphy blog. Sometimes my mathematical background is visible in my art work.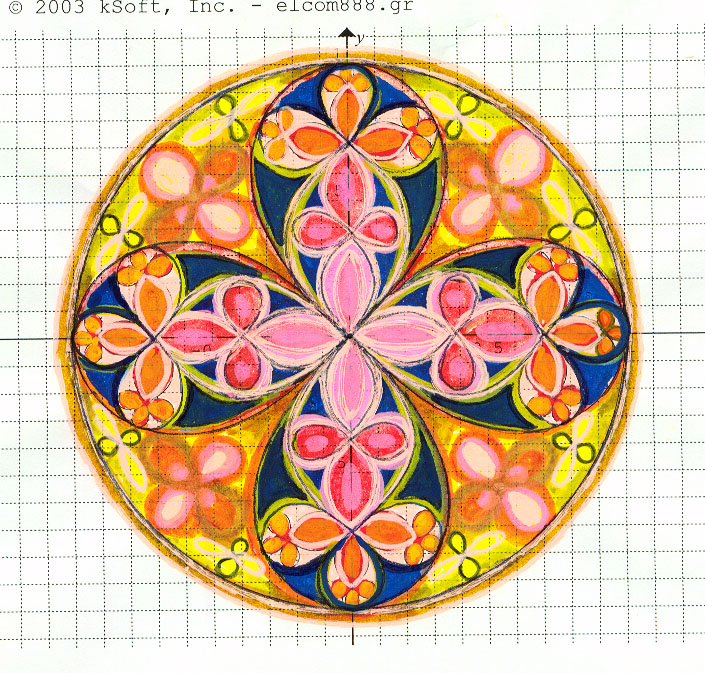 ocho infinito (design sketch)
For instance: ocho infinito, 2004: a large lightobject made for tangoschool El Corte in Nijmegen. The design is built from a repeated complex-root transformation of the circle to itself (great thanks to Wim Couwenberg).
To the right you see one of many design sketches (also see commissions).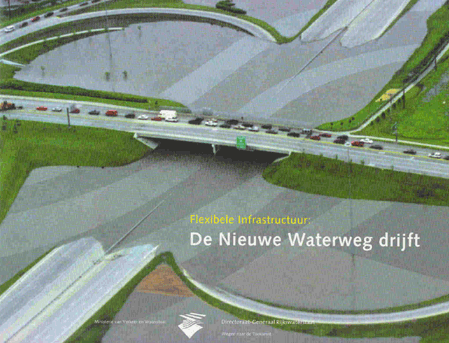 rijkswaterstaat brochure (2001)
After receiving my PhD I worked part-time as a freelance editor and translator (1996-1997), senior advisor/projectleader for the Dutch Ministry of Water & Transport (1997-2001) and senior consultant for the engineering company Royal Haskoning (2001-2005).
Since 1992 I have my own studio, I combined the part-time wage earning with art until 2005 when I became a full-time artist.
Since 2003 I am recognized as a professional artist, see also Bkdoc Gelderland (documentation center for professional artists in the province Gelderland). Health issues persuaded me to give up my other career in Traffic & Infrastructure.
More specifically I suffer from chronic depression (persistent depressive disorder, DSM-5), which is an often underestimated and misunderstood disease.
These last years I also taught art contemplation at the UNIT academy in Nijmegen (2009-2015). The lessons were designed to relate `inner world'-`outer world' with the practice of being an artist, and to relate this also to all periods in art history. The UNIT Academie is a place where talented young artists who do not easily fit in existing educations (for example because of ASD) can work and learn.
Lecture material (in Dutch, 2009-2012) can be found on my Dutch art blog Beeld en Wereld. I usually write on my English blog franka waaldijk visual artist. From 2006 I'm working on a magnus opus: so far almost 200 illustrated trijntje fop poems on art (or art related), in Dutch.
Finally, since 2009 I am master-constructor and master-painter for the well-known conceptual artist Ralf Kwaaknijd. With and for Kwaaknijd I created some twenty sculptures and ten twodimensional works, which have since found their way in museums (under his name).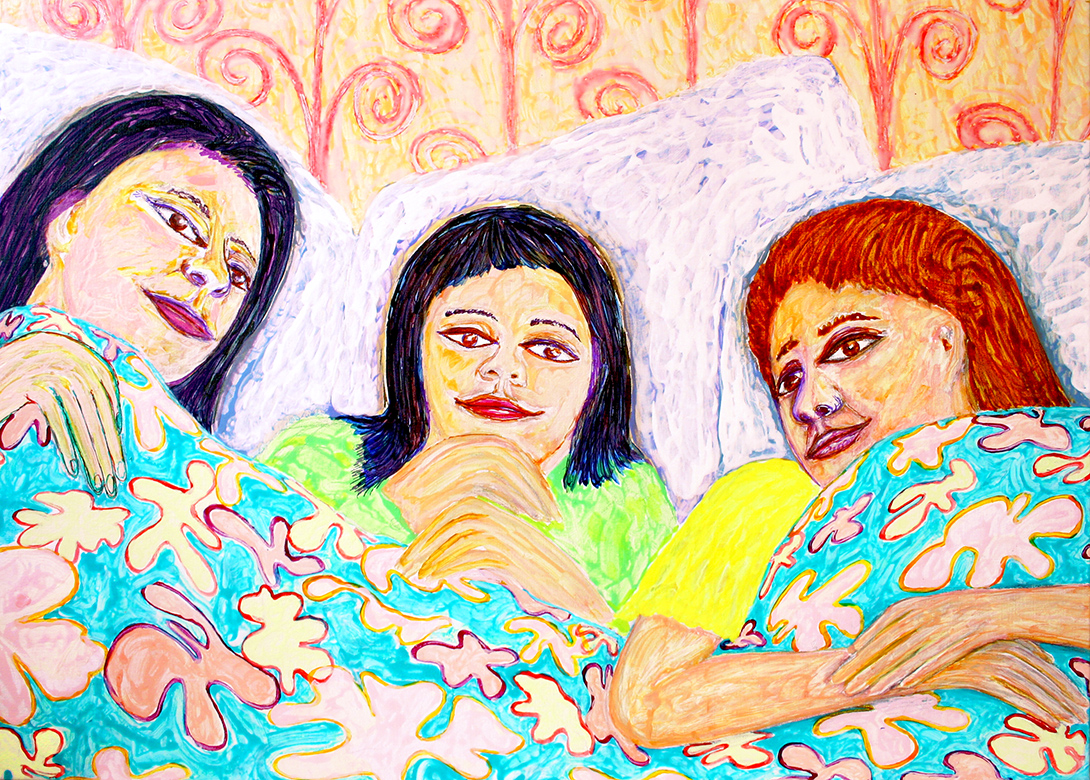 in the family bed (2012)
From 1993-2018 I was married to Suzan, and we are blessed with our children Nora and Femke, now grown up.
Images and texts © Franka Waaldijk 1982-2019, unless otherwise indicated. If properly attributed, sharing on social media (including websites and blogs) is permitted for personal non-commercial non-political purposes. Click for privacy policy.